Packed tower scrubbers in polypropylene Industrial Odor Control
Descrição do produto
Product Description  
1.The classification:
The classification of fiber glass purification tower : Wet Exhaust Gas Cleaning and Dry Exhaust Gas Scrubber.Wet Exhaust Gas Cleaning divided into : packed tower, scrubber tower, desulfurizing tower,Swirl plate tower ,bubble cap tower,stripping tower,absorbing tower; Dry Exhaust Gas Scrubber divided into: activated carbon adsorption tower ,SDG dry acid waste gas adsorption tower . It apply to dispose harmful gas: sulfuric acid mist (H2SO4), hydrogen chloride (HCL) gas and hydrogen fluoride (HF) gas, chromium acid (CrO3), hydrogen cyanide gas (HCN), hydrogen sulfide (H2S), ammonia (NH3), nitrogen oxide (NOx), organic acid, benzene e,etc.  The adopted way is different according to different waste gas.It is more better that using dry adsorption way for organic waste gas, and using wet purification or wet+dry adsorption way for Inorganic acid . 2.Introduction of two main type
A) Dry Exhaust Gas Scrubber:Dry scrubber use a catalyst to remove toxic components by chemisorption or adsorption to their surface. The required contact time is very short and does not depend on the inlet concentration. When most of the material has reacted, the cartridge with the catalyst has to be exchanged. This abatement method can be used for almost all processes used in the microelectronic industry. It does not require power, gases, or water for the gas cleaning. However, it requires maintenance. The catalyst has to exchanged regularly and the waste material has to be disposed. Adsorber material mixed with some color agent or indicator is used to indicate in a special window, when 90% of the catalyst has been used and the material needs to be exchanged. It is possible to install an automatic alarm based on an electronic color sensor.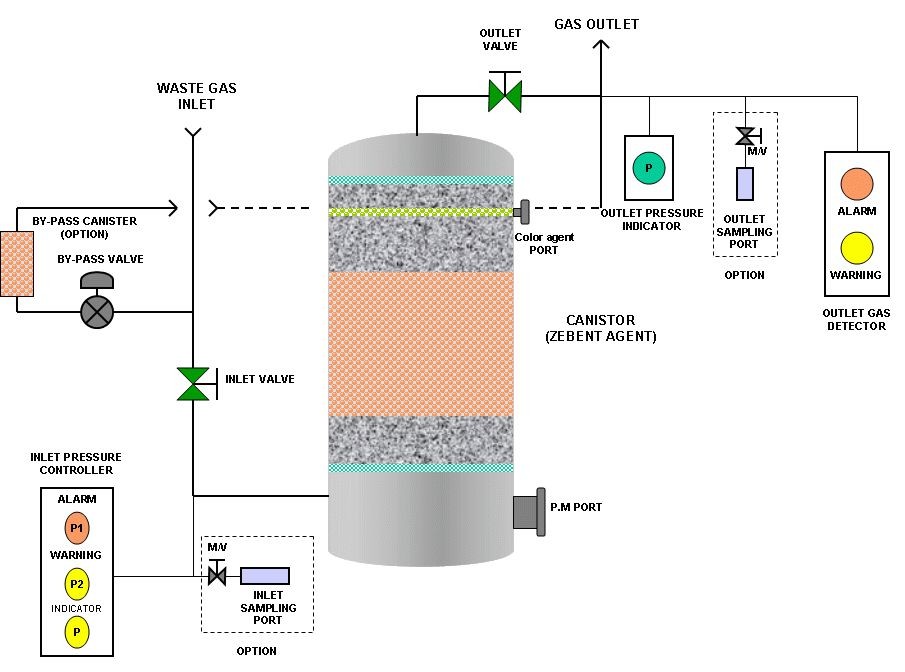 B) Wet Exhaust Gas Cleaning:A wet scrubber is a simple method to clean exhaust air or exhaust gas and remove toxic or smelling compounds. In the flue gas scrubber, the gas gets in close contact with fine water drops in a co-current or counter current flow. This method is more effective when the water drop size gets smaller and the total surface between water or washing fluid and the gas gets larger. The water or washing fluid is recirculated normally in order to save water and reduce the amount of waste water.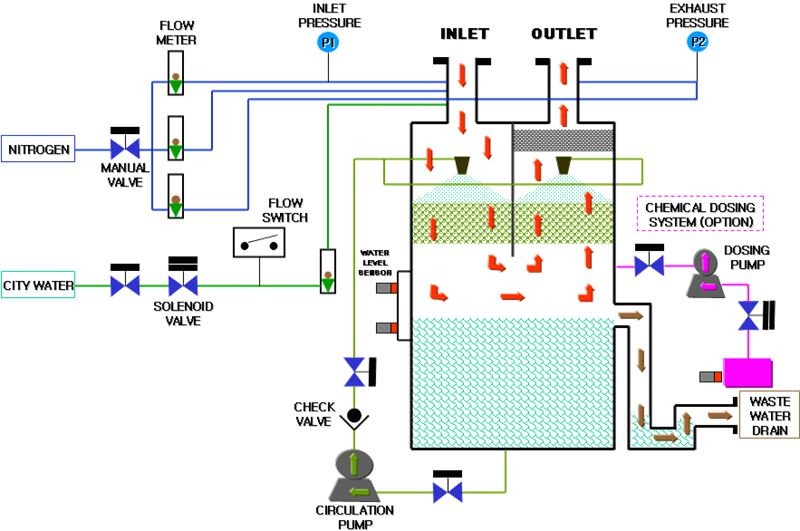 3.Application:   
 Acid gas: sulfuric acid, HLC, nitric acid, HF etc.
 Alkali gas: NAOH, KOH, NHS etc.
 Organic gas: benzenes, alcohols, phenols.
 We used different absorption solvent for dealing with different harmful gas.  
4.Attention:  
1. This purification tower should be installed on anti corrosion basis which is higher 100mm than ground. Pump with acid resistance should be on another anti corrosion basis.
 2. This equipment should be installed indoor, in order to prevent cold weather from effecting on equipment and absorption solvent.
 3. If there is no PH controlling system, PH of acid or alkali solvent should be checked regularly, and consistency should be adjusted at any time.
 4. Spray-head and filling material should be checked regularly, in order to avoid plugging, any problems should be solved immediately.    
5.Technical parameter:  
Name 

Air flow

Relative pump

Relative fan

Quantity of solvent 

Weight of column body 

and total absorption solvent

Model 

m3/h

Pump 

Motor 

Fan 

Motor 

KG

KG

kw

kw

1

2000-2600

40FSB-15L

2.2

4-72 5A

1.2

840

1280

2

5000-6000

40FSB-20L

3

4-72 5A

2.2

1820

2420

3

8000-10000

50FSB-25L

4

4-72 6A

4

3200

3900

4

14000-15000

65FSB-32L

5.5

4-72 6C

7.5

4200

5000

5

18000-20000

80FSB-20L

5.5

4-72 7C

11

5400

6400

6

24000-26000

100FSB-32L

5.5

4-72 8C

15

6600

7800

7

30000-35000

100FSB-32

15

4-72 10C

18.5

7200

8200

8

40000-45000

1000FSB-32

15

4-72 10C

30

8100

12000

9

50000-60000

1000FSB-32

15

4-72 12C

37

10048

15000
Packaging & Shipping  According to customer's requirement
Our Services  
We Can produce it according to the customer's requirements, and can make the
products have very good integrity and good quality.
Company Information   Beijing ZLRC Environmental protection equipment Co.,Ltd. is the supplier of FRP machineary and products. It engage in the development of the FRP pipe production line, FRP filament winding tank production line, pultrusion machine, grating machine and other relatived equipments. The main products include: FRP/GRP pipe, tank, cable tray, profile, cooling tower, SMC water tank, FRP fan, FRP waste gas Scrubber.. and Central air conditioning terminal products. We are a Modern enterprise focusing on manufacturing, sales, installation and aftersale service. Based on idea of people-oriented, pragmatic innovation,, integrity and Efficient, pursuit of excellence. Taking customer satisfaction as standard, with high quality product, good service and sincere cooperation with friends all over the world, to seek common development.
FAQ  
1. Q. Are you a trading company or manufacture?  
  A:   We are manufacture; we have our professional manufacturing teams and technicians    
2.Q. How long is the warranty of your equipment?  
 A:  One year warranty, in the meanwhile, quality inspection before delivery; during the warranty period, we can replace the damaged consumables for free, after the warranty period, we have a good price for consumables for our customers.    
3. Q: Do you have technical support?  
 A: Our Company is responsible for installation and debugging of equipment, meanwhile, responsible for the technology and operation training for user operator.    
4. Q: Is overseas after-sales service available?  
A: Yes, and after installation we will teach you basic operation and maintenance method.  
5. Q: May I customize my own equipment?  
A: Yes, please inform us your needs in details and we will design the facility per your data.      
Grupo de Produto : Produto Frp > Purificador de gás FRP
Enviar e-mail para este fornecedor